Tell me? C'mon. Tell meeee.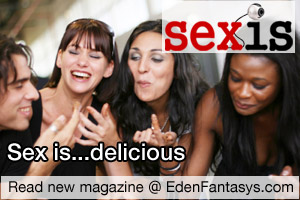 So SexIs is doing this new thing where staff and contributors get to give opinions on certain topics. SexVoxing. This week they did Sex & Cinema where we all got to talk about our favorite mainstream sex scene.  (Oh. Oh.  Yes.  I said we.  Heh.  I'm sort of both staff and contributor, even though my article hasn't gone live yet)
So, anyhow…
Leave it to me to have chosen a movie scene where the girl gets fucked so well that she's quite happy to cook and clean for her dude when it's done.  I mean, seriously.  Non BDSM folks just would NOT find that hot.  :P
But how about y'all?  What would you answer?  What's your favorite sex scene in a regular old, non porn movie?  (And, yes, I do already know I'm going to get many "Secretary" answers. I am prepared for it.)
Tell me, tell me, tell me!
And tell me what you're doing this weekend, too!  I have a wedding to go to and it's outdoors and they're calling for rain so…  start praying and crossing fingers and toes for me, k?  My hair does odd things in the rain.